Choosing the Best Gaming PC for VR Games in 2023
by Sayan Dey
January 16, 2023
0 comments
It takes a VR-Ready machine to handle VR gaming headsets like Oculus Rift S, Sony PlayStation VR, or HTC Vive Cosmos. To stream games to VR headsets with the best possible visually appealing graphics, there are many other aspects to look at apart from the system's configuration. The biggest challenge in VR games is the requirement for powerful hardware, software, and blazing-fast connectivity. You could choose either a VR-ready PC or a laptop. Your choice will depend upon whether your work requires you to carry your system around or you have to sit in one place most of the time. If you require mobility, then choose a laptop, otherwise, go for a VR-ready PC.
Features to Check in a VR-Ready Machine
A gaming machine for VR games should have all the parameters checked for the best performance in virtual reality. A proper set of hardware combinations is the first need.
Required Configuration
VR gaming is mainly meant for premium segment gamers, so entry-level configurations won't work. In 2023 you should opt for a 12th Gen Intel Core i7 CPU at least, and go for an Nvidia GeForce RTX 3060 to start with. For GPUs, going for an RTX 3070 Ti is actually better considering the upcoming rapid evolution in the VR segment in coming years. If you want to learn about all the aspects of hardware configuration required for VR gaming you should check out this link on PCQuest.com. If you're looking for a VR-ready gaming desktop, then the RTX 3080 along with an Intel Core i7 CPU is the best best. 
Opt for the Best Connectivity Features
This is definitely the most important aspect of a VR gaming machine as VR gaming requires a lot of external hardware to be connected. To ensure real-time experience in VR gaming, the fastest connectivity is considered as the norm even by the developers.
So, opt for a device that comes with multiple Type-C USB ports and Thunderbolt ports, as they are typically 5x faster than USB Type-A ports.
Having Micro HDMI 2.1 and Mini HDMI DisplayPort ports are required for seamless connection with the VR headset.
For Wireless connectivity the combo of Wifi 6E (2×2) and Bluetooth 5.2 is the best bet in 2023.
Ensure the Best Thermal Features
Playing VR games is like playing on one device and streaming on another. Such configuration will push the resources to work at their peak, which will start heating up the system. So, opt for a silent but robust cooling system that can provide superior cooling and maintain optimal temperature all the time. The best gaming-grade laptop cooling system should feature fans with more blades to increase airflow and should be using liquid metal thermal conductors for the best heat dissipation. Your device should have 4+ copper pipes to dissipate heat effectively and a proper ventilation design is the most crucial.
If you are worried about what should be the optimal temperature of your system while gaming, then it's actually 42° C for laptops. For most devices, the temperature varies between 40°-55° C. Omen Tempest Cooling is a great choice if you want to maintain an optimal temperature under 40°C.
Opt For Reliable Accessories
As we already discussed, there are lots of accessories required to turn a gaming laptop into a VR gaming device. So, apart from the VR headset itself, there are other accessories that will be needed. In that case, it is always recommended to stay under one ecosystem for the best driver compatibility and proprietary features.
For gaming keyboards, mice, mouse pads, mics, and headphones under the same ecosystem, HyperX is a good choice. HyperX Cloud Headphones and Pulsefire Mouse are the most popular choice for professional gamers and streamers.
The chair is another accessory that most of us ignore, but in VR gaming it cannot be. Omen Citadel Gaming chair is one product I can boast of from my experience.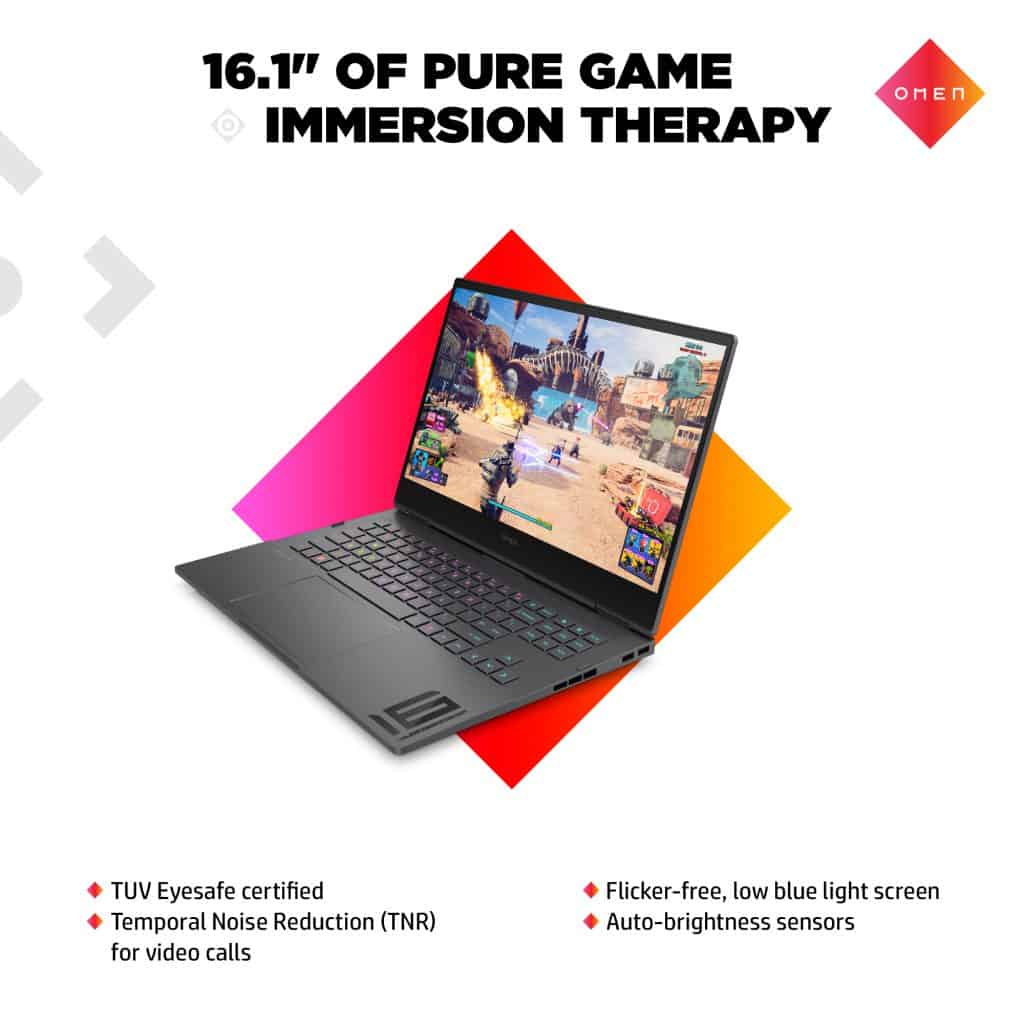 Some Good Laptops for VR Games
If you are an enthusiast gamer and interested in VR gaming, then the HP OMEN 16-k0370TX is the go-to choice for you. Powered by the 12th Gen Intel Core i7 and Nvidia GeForce RTX 3070 Ti (8 GB GDDR6), it will deliver superior gaming performance. Plus, the Omen Tempest Cooling, 2 Thunderbolt 4 with USB4 Type-C Ports, 3 SuperSpeed USB Type-A Ports, HDMI 2.1, and 1 mini DisplayPort make this a proper device for VR Gaming.
If you're looking for a VR gaming desktop, then you should check out the HP OMEN 45L Gaming Desktop PC. Powered by GeForce RTX 3080 10GB GPU and 12th Gen Core i7 CPU, it features the HyperX 32 GB 3733 MHz RAM, for blazing performance.
But if you are looking for a future-proof but portable solution for VR gaming, which can be a true desktop alternative, then check out the HP OMEN 17-ck1023TX gaming laptop. This device is powered by the mighty Intel Core i9 CPU and the fierce Nvidia RTX 3080 (16 GB GDDR6) GPU. The price is high but the performance is like a hot knife in butter. This device features a QHD (2560 x 1440) display, comes with all the ports as the above, and Intel Wi-Fi 6E AX211 (2×2) & Bluetooth 5.2 combo with Gigabit data rate support.
Check out the HP online Store to browse many other premium and affordable gaming laptops.