Getting the Best Value for Money from your Gaming Laptop
by Sayan Dey
January 16, 2023
0 comments
You buy a gaming laptop so that you can get the best experience while playing the latest games of your choice. However, it becomes an even better decision if the same gaming laptop can do much more. That's when it can truly deliver value for money. Here's how a gaming laptop can give you the best bang for your buck.
Gaming Laptops are Great All-in-one Devices
In today's demanding digital world, you need a desktop PC for power computing, a console for gaming, and a laptop for portable computing on the move. However, investing in all three can be very hefty, and yet you will miss something or the other when using each of the devices. You will be able to use your desktop for resource-intensive work, but you won't be able to carry it around with you. Consoles are great for gaming, but you can't do any other computing work on them. An ordinary laptop will let you do basic computing work on the move, but nothing very intensive. This is where a good gaming laptop will be a great fit. It will fulfill all three needs in one device, giving you intensive computing capability as well as portability.
Power for Serious Computation
Gaming laptops usually have very powerful configurations with top-of-the-line CPU and GPU along with plenty of rams. Besides playing games, such power can also be used for different types of resource-hungry computation. If you work with Data Science, Machine learning, Graphics designing, animation, etc. then gaming laptops can provide you with better performance than a normal laptop and even entry-level desktops.
For users who need a powerful business computer but also want to play games on it, a gaming laptop is a perfect choice for them. Gaming laptops are faster, more feature-rich, more compatible with the latest applications and upgrades, and come with a vivid look to express your gaming personality. In short, gaming laptops are a productive choice that also help in mental well-being.
More Versatile as Compared to Desktops & Consoles
Desktops are not portable and need a lot of space for setup unless you go for an All-in-One desktop. So, for people who travel a lot, like sales and marketing folks or students, opting for a desktop is not the right idea. On the other hand, a gaming console is a good idea if you want to settle for a concise library of games. However, if you want to avail the of popular gaming platform services like Steam, Epic Games, EA Origin, Battle.net, Riot Games, etc., then opting for a Windows device is the only way to go. Though consoles are more portable than desktops, it is practically not possible to carry them around. That's why choosing a gaming laptop makes more sense.
Better Gameplay Performance Than Consoles
Decent gaming laptops are far more powerful than top-end consoles like PS5, Xbox Series X, Nintendo Switch, etc. Due to this, the gameplay performance is smoother and more customizable. You can get more FPS and adjust all the graphics attributes to ensure you get smoother and eye-soothing graphics. Top-end laptops powered by RTX 3070 TI or RTX 3080 are actually far better in gaming than gaming consoles.
On the other hand, to enhance the gaming experience you can use any gaming keyboard, mouse, joystick, or analog controller as per your choice. Gaming consoles support only proprietary controllers. Streaming, recording, or using 3rd-party background apps for chatting with teammates, is easier and more flexible in gaming laptops over consoles. So, while compared to consoles, only from a gaming perspective, gaming laptops are a better investment.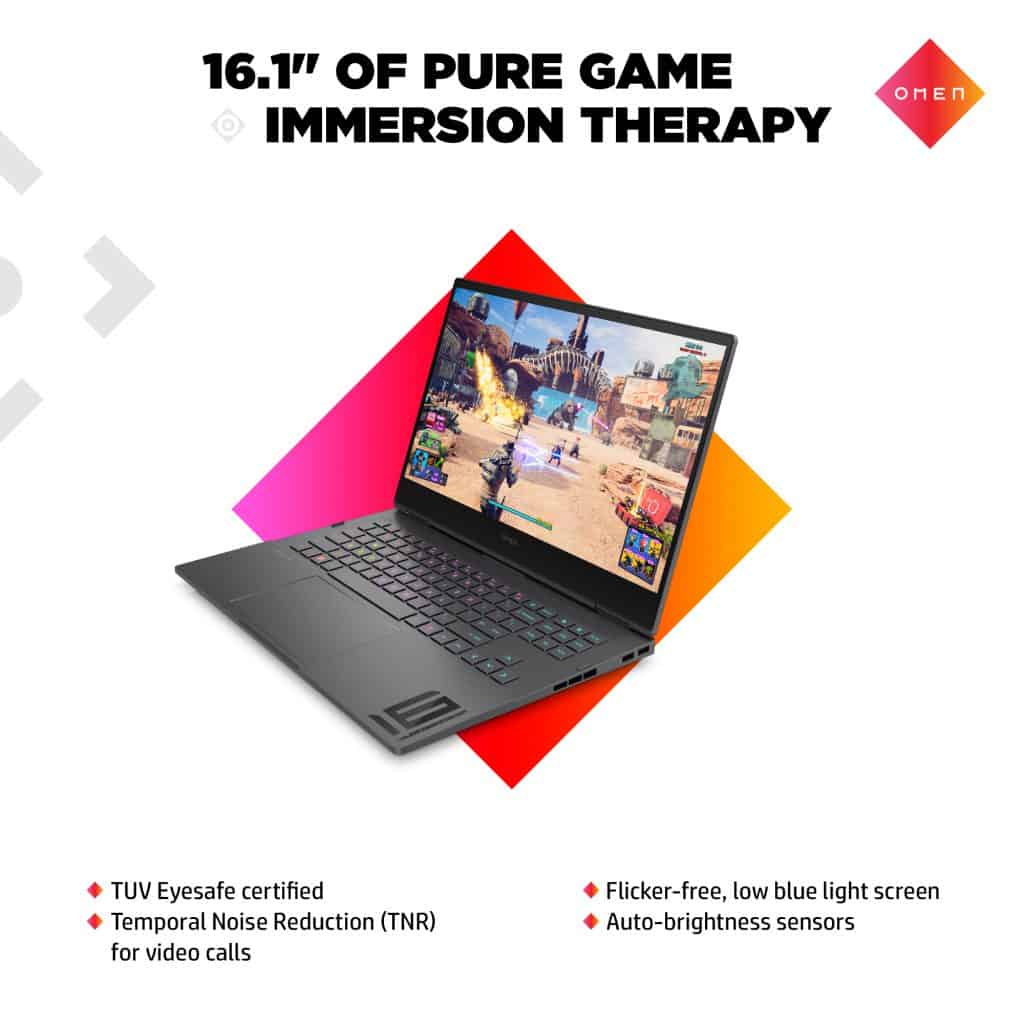 Great for Studies and Office work
As gaming laptops are capable of handling different types of computing work, they can be used for many other applications. For example, a student can use the same device for studying, completing assignments, and playing games. Likewise, an office employee can work on weekdays and enjoy weekends playing games on the same device. So, you don't need to invest in separate devices for different purposes. No matter what type of computation requirements you have, if gaming is one among them, just go for a gaming laptop, to address all your needs.
Superior Thermal Features
Cooling and ventilation are important factors in gaming laptops. If you try to play the latest games on an ordinary desktop or laptop, then they will overheat, which can be bad for the device. So, you won't be able to play games on them for too long. This is where a gaming laptop becomes a good option. For example, HP has Tempest Cooling technology in its Omen series of gaming laptops. This ensures that the laptop's temperature stays under 40° C all the time. Even the best consoles overheat when pushed to their limits. Gaming laptops are a good choice that way.
Longer Lifespan
Many people would differ if I say gaming laptops typically have a longer lifespan than normal laptops. However, various studies suggest that they do last longer. This is because gaming laptops are typically powerful devices, which ensures that you are able to run the latest games on them with ease. Due to their superior configuration, the device stays relevant for a longer period as compared to an ordinary consumer laptop. Even if it is not possible to play the latest games on it after a couple of years, the device can still be used for general purposes for many years.
Gaming laptops typically feature the latest technology components like DDR5 RAM, Gen4 SSD, etc. Such relatively newer technologies in the market keep the devices compatible with upcoming applications, hence boosting their longevity. So, it can be said that if you are able to use a typical laptop for 4-5 years, a gaming laptop will be there for 6-7 years.
Better Features & Premium Experience
As top-of-the-line gaming laptops are designed for pro gamers, they come with various features for gamers like anti-ghosting, high refresh rate, RGB, etc. For a normal user, these features enrich the computation experience. Even watching a movie on a 144 Hz display is much more fun. Using an anti-ghosting keyboard improves the working experience, especially for those who type a lot. The RGB keyboard is useful to work on in low light conditions while adding a premium look. Along with features, the superior hardware configuration ensures a smooth multitasking experience.
A Workstation Alternative
Data science professionals, machine learning & deep learning engineers, mostly opt for Mobile Workstation laptops. Even Civil & Mechanical engineers and architects also opt for Workstations. However, if such professionals are also passionate gamers, then workstation laptops won't cut it. As it would be unwise to spend on a workstation as well as a gaming laptop, you could opt for the latter as it could serve both purposes.
Some Value-For-Money Gaming Laptops
For budget-sensitive buyers, the HP Victus 15 fa0350TX is a great gaming laptop. With a 78K INR price tag, it comes with a 12th Gen Intel Core i5 CPU and Nvidia RTX 3050 GPU, which ensure great performance and compatibility with most resource-intensive applications out there. Due to the configuration, this device is actually more capable of multitasking than many professional laptops in this price range.
For pro gamers with a decent budget, check out the HP OMEN 16-k0370TX Gaming Laptop. It comes with a 12th gen Intel Core i7 CPU, Nvidia GeForce RTX 3070 Ti (8 GB GDDR6) GPU, and 16 GB DDR5 4800 MHz RAM. For a price tag of 185K INR, it's a great value-for-money device if you use it for gaming, data science, machine learning etc.
Check out the HP online Store to browse many other premium and latest gaming laptops. Click here to know about HP Victus and Omen gaming laptops.
If you want to compare the prices of various laptops visit Pricehush.com.