How to Choose the Best Gaming Laptop for FPS Games
by Sayan Dey
January 16, 2023
0 comments
Choosing the perfect gaming laptop for FPS games can be extremely confusing, depending on budget, requirements, and the type of FPS games you are interested in. On one hand, competitive FPS games like CS-GO, Valorant, etc. are more CPU-intensive; while on the other hand, Battle Royale games like Apex Legends, COD-Warzone, and PUBG are more GPU-intensive. On a different note, AAA RPG titles have a different set of needs, which require a superior combination of CPU and GPU both. Let's dig deep into some key factors that need to be considered for each type of gamer before buying a gaming laptop for FPS games. I'll also share my personal experience on this, as I have more than 15 years of experience in gaming out of which 8+ years as a pro.
Importance Of CPU
If the game of your choice is CPU-intensive, then superior single-core performance is required. For that, 12th Gen Intel CPUs are clearly the best choice. AMD Ryzen can be a good choice if you are very budget conscious. Ensure you get a 4.0 GHz clock speed with overclocking capabilities. I have seen Ryzen 5 CPUs performing extra-ordinarily well in CPU-intensive games like "Valorant" by securing 60+ FPS even without any dedicated GPU. So, if you are an avid gamer on a tight budget, then choosing an entry-level "GPU-powered gaming laptop" with Ryzen 5 CPU will still ensure you great value.
How to Choose RAM
In 2023 for gaming, 8 GB RAM is mandatory and for better background multitasking, 16 GB is recommended. For heavier AAA games and max graphics setting, 16 GB is the norm. Opt for dual channel RAM config over the single channel for superior data processing performance. Remember, opting for a 2×8 GB instead of a 1×16 GB is a better idea for performance. On the other hand, opting for 8 GB DDR5 4800 MHz is a better choice over 16 GB DDR4 3200 MHz RAM. Games like CSGO, and Valorant do not require more than 8 GB RAM, but I've seen Call of Duty and PUBG running with lags without 16 GB RAM. So, choose the RAM capacity by considering the games you want to play. For AAA games, 16 GB should be the starting point, considering the recommended configurations of the latest games like Red Dead Redemption II, God of War, Uncharted, Cyberpunk 2077, Assassin's Creed Valhalla, etc.
Which GPU Is Suitable for FPS Games?
For 1440P (2K) or 2160P (4K) gaming, the highest-tier GPU like Nvidia GeForce RTX 3070 Ti, or 3080 is the best but a costly idea. It depends on your choice of games and genre according to which you can go for other GPUs. For most FPS gamers, I suggest going with an Nvidia GeForce RTX 3060 GPU for decent performance. I play both CS-GO, and Valorant avidly on my RTX 3050-powered PC, and I get 300+ FPS at 1080P in both games with max settings. But while playing Apex Legends occasionally on the same PC, I get 80-90 FPS at max, which makes me feel like going for an RTX 3060 GPU.
VRAM is another crucial aspect of the GPU, especially for AAA games. Most games these days recommend more VRAM than ever, which makes 4 GB the minimum recommended RAM. Going with a 2 GB GPU won't do the job in 2023. Choose an Nvidia GPU with 6 GB or 8 GB VRAM over other features if you have enough budget if you want the best performance.
Display Makes the Difference
For gamers, the display is a key factor in winning matches. Large displays won't be enough unless they have a high refresh rate and minimal response time. 144 Hz refresh rate and 7 Ms response time with 16-17 inch screen size are recommended for FPS gamers. As a gamer, I don't think any serious competitive gamer would want to play games with less than 144 Hz output, because it puts you in a vulnerable position in front of your enemy while they are using 144 Hz or 165 Hz displays. Personally, I have encountered considerable improvement on my reflexes in Valorant and Overwatch after switching to a 165 Hz monitor.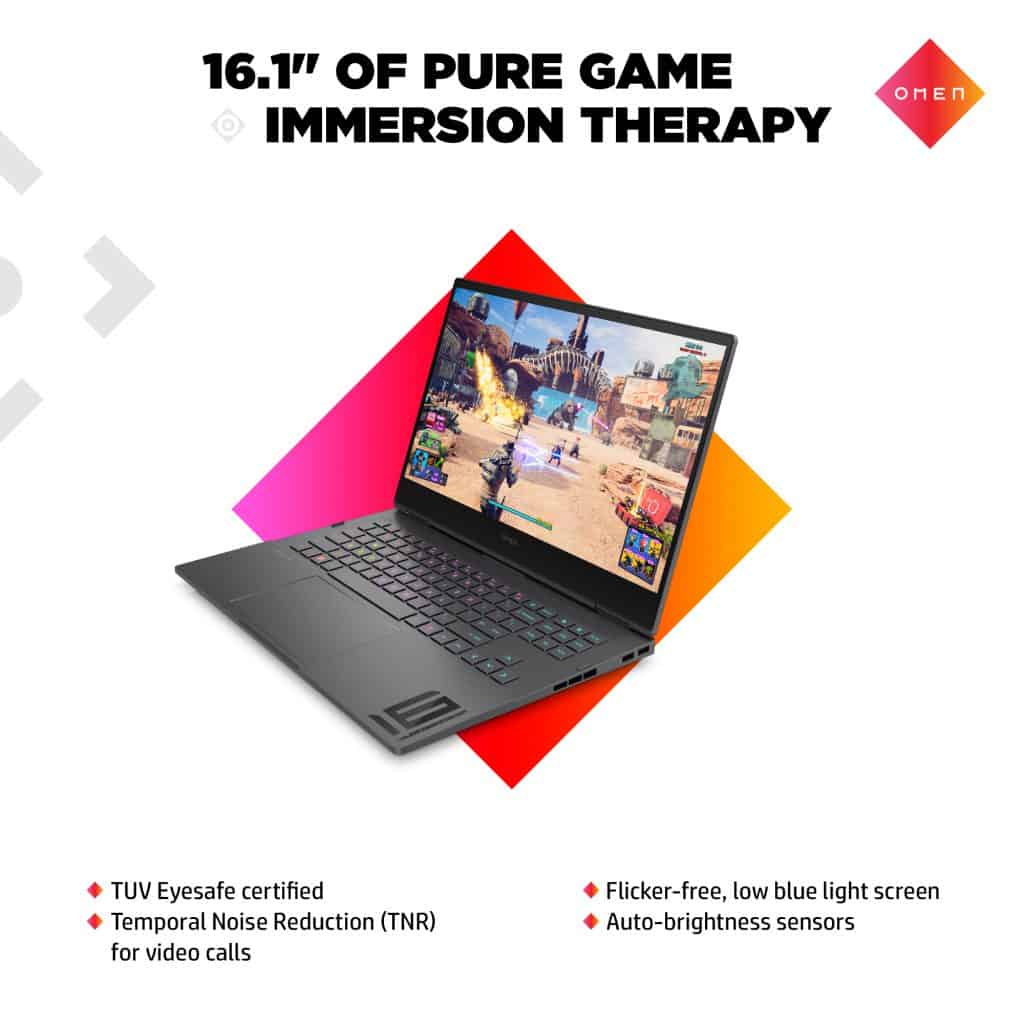 Check the Thermals
If it is a gaming laptop you are looking for, never underestimate the requirement of a powerful thermal and ventilation system. To maintain the optimal temperature within the system, proper ventilation, air-flow system, and heat dissipation capabilities need to be combined. If the thermal system is not up to the mark, then the laptop will start overheating and the sudden FPS drop can be noticed. To avoid losing a win-win game because of overheating, always opt for premium gaming laptops that feature robust cooling/thermal systems. "Omen Tempest Cooling" is a good gaming-grade thermal system for gaming laptops.
Why Is Anti-Ghosting Keyboard Necessary?
Anti-ghosting keyboards are costly and overkill for most entry-level gamers & games. However, multiplayer FPS games don't allow you any room for mistakes. This is why every keystroke matters and tactile feedback is required for a clear user perspective. Anti-ghosting keyboard is extremely helpful in games where multi-key combos are involved. I feel that anti-ghosting is a must-need while playing Fortnite. "Build-fights" in Fortnite calls for extremely fast multi-button operations and anti-ghosting can win you lots of fights there.
Connectivity Features
For FPS gaming, don't depend solely on WiFi connectivity. To minimize the ping response, opt for a LAN connection instead. If not possible, then choosing a gaming laptop with WiFi 6E (2×2) is the 2nd best option.
On the other hand, having an HDMI port and a Mini DisplayPort is a good choice for people who want desktop-like gaming.
USB4 Type-C Thunderbolt Ports are mandatory if you are going to use external storage for gaming.
How to Choose the Right Gaming Accessories?
Gamers are as powerful as the accessories they have. For gamers who use laptops, you have to rely on quality accessories like a mouse and headset. I played games on a gaming laptop for years, so what I can personally tell you is that a gaming keyboard, mouse, and headphones are all required as much as the GPU itself. Though there are no standards set for these accessories, go for functionalities over cool RGB and catchy gaming brandings. To avoid frustration and confusion and for the best look & feel opting for all the accessories from the same brand is a wise decision. For instance, check out HyperX Accessories if you want an accessories ecosystem designed for streamers and pro players.
Some Good Gaming Laptops for FPS Gaming
For entry-level & budget FPS gamers, I suggest the Victus 15 fb0050AX for the best value for money. With a price tag of 70K INR, this device features an RTX 3050 GPU, a backlit keyboard, and a 144 Hz FHD display. For CS-GO, Valorant, and Overwatch players, I'll recommend this device.
For other FPS games like Apex Legends, Call of Duty, and Rainbow Six Siege, I would suggest the HP OMEN 16-b1361TX. The Intel Core I7 CPU and RTX 3060 will address the requirements better in such games. It also comes with a free HyperX Stinger Core Headset and HyperX Pulsefire Core mouse for a pro gaming experience.
Check out the HP online Store to browse for the latest gaming laptops for various budget segments.