Is Your Laptop Ready for VR Games?
by Sayan Dey
July 5, 2022
0 comments
The Metaverse is on the verge and the popularity of Virtual Reality (VR) games is proliferating. Most upcoming VR games will come with a virtual world of their own and will start a new way of socializing and enjoyment. While most VR games are still not visually pleasing due to low graphics and bandwidth limitations, the situation will undoubtedly change in the next few years. The increase in both broadband and wireless bandwidth will let us enjoy higher data transfer speeds. On the other hand, new game engines and upcoming GPUs with Ray-tracing and DLSS features will let developers render high-end visual graphics in VR games.
But only the best gaming laptops can handle high-end VR games. Because VR games will contain high-end interactive graphics with Artificial intelligence, the same processor has to stream the content in VR headsets. So, it is both CPU & GPU intensive at the same time. Popular VR Headsets like Oculus Rift S and HTC Vive Cosmos require decent computational power to provide optimum performance. So, I recommend going for the latest laptops that are powered by Nvidia GeForce RTX or Radeon RX GPUs.
Which Is the Best VR-Ready Laptop?
The best VR-ready laptops are actually a bit pricey and mostly fall in the premium gaming segment. You must carefully choose the GPU, CPU, and RAM for VR gaming. It is always recommended to invest in a futureproof laptop so that you can get real value for money. Also, it is recommended to opt for a gaming laptop instead of a desktop, as the future of virtual reality is mobile.
If you are concerned about what budget to consider, I would recommend you at least Rs. 100,000 to start with. If you buy directly from the online stores of OEM vendors like HP, then you might even find some great deals available. HP, for instance, offers 5% cashback on SBI cards. On the other hand, opting for a brand like Omen Gaming Laptop would ensure you get the best performance with a long battery backup.
Key Features Needed for VR-gaming Laptops:
VR is CPU Intensive: A good CPU always compliments a GPU and makes sure the GPU is not bottlenecking. Though most games are GPU intensive, many multiplayer games like Counter Strike Global Offensive, Valorant, DOTA, League of Legends, Overwatch, etc., are still very CPU intensive. Apart from playing such games, you will also need a decent CPU for background operations and framework execution when playing any game. On the other hand, VR games are mostly CPU intensive, so choosing a high-end CPU is a must. While VR gaming is a next-gen trend, you must opt for CPUs that are ready for the next-gen, like 12th gen Intel Core CPUs. Opt for the latest 12th gen Intel Core i7 CPU or Ryzen 7 5000 series CPUs for a gaming laptop.
Check out the upcoming Victus by HP Laptop 15t-fa000, which is powered by the latest 12th gen Intel i7 CPU, which will ensure performance and longevity at the same time.
Get a High-performance Graphics Card: The Graphics card is the most critical component of any gaming laptop, ensuring compatibility, smooth experience, and FPS. Most games are GPU intensive these days, so you will need the latest GPU, which supports modern technology like ray-tracing, DLSS, DirectX 12, low-latency mode, etc. Nvidia RTX 3050 or higher and Radeon Rx 6500 XT or higher are some of the best examples of this kind. Keeping an eye on the VRAM is also very important as the requirement for the same is increasing rapidly for VR games.
Buffering Requires more Memory: Wherever the term "buffering" is concerned, it has to deal with data bandwidth. VR gaming often causes a lot of buffering load, unlike conventional gaming. Usually, you require more Memory to handle this pressure so that the game can be played without lag.
Anyway, 32 GB RAM is suitable for enthusiasts these days. This is why you must not consider any laptop with 8 GB RAM for VR gaming. Go for at least 16 GB RAM, and make sure your device has room for a further upgrade so that you can upgrade up to 32 GB later.
Consider Laptop Thermals: While using a gaming laptop, the cooling system is going to be your laptop's best friend without any doubt. We all know that GPUs generate a lot of heat in gaming laptops, and the CPU is also an equal contributor. Heat can actually slow down your laptop and impact your gaming performance. If left unchecked, it could even damage internal components. That's why gaming laptops need to be equipped with a good cooling mechanism, which will help to dissipate the heat properly and keep the laptop running smoothly even during long gaming sessions. Most gaming laptops in the market either feature a poor & ineffective cooling system in an attempt to make the device slim or come with a bulky & noisy design.
There are also laptops like Omen by HP that have a very efficient cooling system. "Tempest Cooling Technology" is a combination of 6-copper heat pipes with a thermopile sensor and two 2x blade low-noise fans. Also, Omen Gaming laptops use the Grizzly Conductonaut Liquid Metal Thermal Compound, which delivers the heat to the pipes extensively, like no other thermal cooling solution.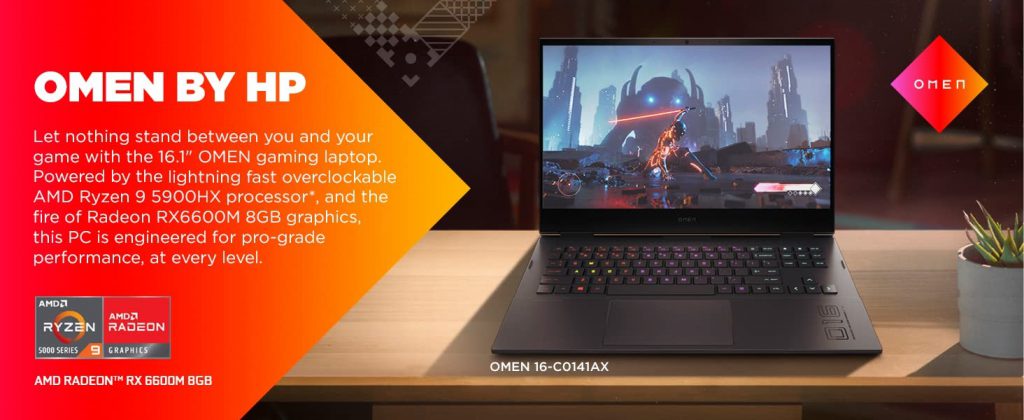 Battery Life at Its Most
Gaming laptops are often criticized due to their low battery backup. As the GPU is a very power-intensive component, it requires a more powerful battery than a typical business laptop. For best performance in GPU-intensive AAA games, you will need the power supply to be connected most of the time. In addition, while you will be running the VR headset connected with it, the battery consumption will multiply. You will find very few gaming laptops with 6+ hours of battery backup while gaming.
Omen Gaming laptops are among the few which deliver 8+ hours of battery life in this segment. Also, all gaming laptops from HP feature batteries with 1000 life cycles and offer a 3-year warranty on them, unlike any other brands. Check out the OMEN by HP Laptop 16z-c000, which features 8+ hours of battery backup, even with the RGB keyboard and logo on.
Look For a Gaming Display: Though you will be enjoying your games on VR Headsets mostly, you must also look for a high-end display for gaming purposes. As a gaming enthusiast, you might be playing other non-VR games where an FHD display would be needed. So, at the very least, you must opt for a 1080p FHD monitor. Going for a 1440P (2K) display is recommended for a better visual experience and wider viewing angle in-game. You should opt for a display with a 144 Hz refresh rate or higher for the real-time output. 144 Hz displays not only makes the visual performance smoother, but it gives you a distinctive advantage in multiplayer games over other players using 60 Hz monitors. 4K displays are also good, but it is not recommended for multiplayer gaming due to slower output frequency.
Choosing a Lightweight Device is Important: Even for gaming, if you are choosing a laptop over a desktop, then portability is your concern. Most gaming laptops are typically heavier than others and can cause shoulder aches if carried for too long. For VR gaming, you will also need to carry a heavy VR headset with the setup, so choosing a heavy laptop will increase your pain. I recommend opting for a lightweight gaming laptop that features a solid aluminum-metal build instead of cheap ABS plastic builds.
Check out the OMEN by HP Laptop 17t-ck100, a lightweight but solid gaming machine ready for VR gaming out of the box. This device features 16 GB DDR5 Memory with a 12th gen Intel Core CPU.
High-speed Connectivity: Network connectivity bandwidth is the biggest issue VR gaming is facing to date. While many are still using 4G internet and old gen wifi for broadband, it becomes a considerable challenge for multiplayer VR games and for metaverse applications. So, opting for a laptop with inbuilt 5G connectivity, Realtek wifi 6 (2×2), and Bluetooth® 5.2 combo (Supporting Gigabit data rate), high-speed internet & bandwidth is highly recommended.
HP Pavilion Gaming Laptop 15-ec2145AX has the same connectivity features within an affordable range.
Verdict
If we summarize all the key points discussed above, it can be said that entry-level gaming laptops are not meant for VR gaming. Virtual reality is the next-gen of gaming, and to be ready for that, you must equip yourself with the best gaming laptops with the next CPU and GPU.
Check out the HP Online store to find such suitable OMEN gaming laptops at a fair price.